QUEST®
(EQUEST®)and QUEST® PLUS(EQUEST PRAMOX®) Gel
SINGLE DOSE TREATMENTS
QUEST® and QUEST® PLUS Gel are the only Food and Drug Administration (FDA)-approved dewormers on the market that treat and control encysted small strongyles, bots and roundworms in a single dose. QUEST PLUS offers the same effectiveness as QUEST, but also treats and controls tapeworms, an important annual treatment in late fall.
PROVEN EFFECTIVE
In a recent study, horses treated with moxidectin, the active ingredient in QUEST and QUEST PLUS, showed a 99.9% reduction in fecal egg counts compared with only a 42% reduction in horses treated with five double-dose tubes of fenbendazole,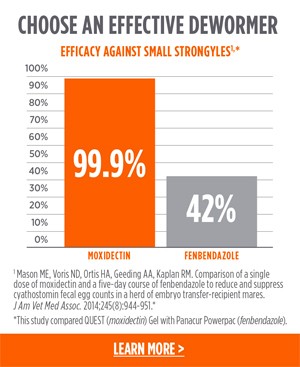 LONG LASTING
QUEST and QUEST PLUS are the only FDA-approved products to suppress the production of small strongyle eggs, and a recent study showed egg suppression persisted for 90 days.1 This is important, as small strongyles are the No. 1 parasite of concern in adult horses.2
CONFIRMED SAFE
QUEST and QUEST PLUS are proven safe for use in a variety of horses. QUEST and QUEST PLUS are the only products approved to treat encysted small strongyles in breeding mares and stallions.
In 2015, more than 1 million doses of QUEST and QUEST PLUS were sold in the United States, and more than 9 million doses have been sold in the U.S. since 2004.3
Do not use QUEST Gel or QUEST PLUS Gel in foals less than 6 months of age or in sick, debilitated and underweight horses. Do not use in other animal species, as severe adverse reactions, including fatalities in dogs, may result.
1 Mason ME, Voris ND, Ortis HA, et al. Comparison of a single dose of moxidectin and a five-day course of fenbendazole to reduce and suppress cyathostomin fecal egg counts in a herd of embryo transfer-recipient mares. J Am Vet Med Assoc. 2014;245(8):944-951.*
2 American Association of Equine Practitioners. AAEP Parasite Control Guidelines. Available at:http://www.aaep.org/info/parasite-control-guidelines. Accessed January 29, 2016.
3 QUEST PLUS and QUEST Sales Data. Zoetis. December 2015.
* This study compared QUEST (moxidectin) Gel with Panacur Powerpac (fenbendazole).
IMPORTANT NOTICE!
Please note that this is a general product information according to US approvals, for specific regulatory information concerning your market please contact Regulatory department email: Regulatory.AffairsMER@zoetis.com

Close